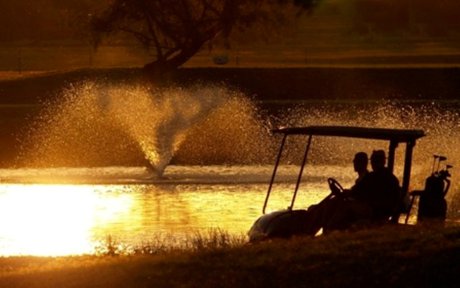 Golfers hit their stride on Myrtle Beach property at the Grand Dunes Resort Club. A true bucket list destination for golfers of all skill levels this glorious course is more than satisfying. Critically acclaimed rave reviews and awards are deservedly earned by the venue. In fact, the Grand Dunes Resort Club was previously declared, "National Golf Course of the Year" by the National Golf Club Owners Association of America and listed as a "Top 20 Best Courses in South Carolina" by Golf Magazine.
Amazing views of the Intracoastal Waterways and Grand Dunes Marina inspire golfers to do their best. Situated on a high bluff, this Roger Rulewich Group course was designed to challenge every level of athlete. Gorgeous greens and sparkling water features add to the lighthearted ambiance felt by all those who play here. Eighteen holes of strategy create fulfilling one of a kind experiences for golf aficionados.
Cheers Ring Out Near Myrtle Beach Homes
The clubhouse is the place to be once off of the greens. First class amenities await players such as separate lockers for women and men, a full service pro shop and dining options. Fine dining is at its best on this Myrtle Beach property. There's no better way to relax than lunching on the outside veranda overlooking both the 9th and 18th greens. Cheers ring out in the pub as buddies toast one another for excellent shots and commiserate over missed opportunities. In the pro-shop expert staff is willing to offer advice on equipment, attire and on how to play each hole.
Grand Dunes golf specials are worth taking advantage of. A selection of discounts are perfect for visitors to the area or resident golfers from Myrtle Beach homes. Many deals feature golf packages for additional golf courses found in the Myrtle Beach real estate region.
Tee times are easily booked online. Reservations can also be made and other questions addressed by calling 877.283.2122. Play the Grand Dunes Resort Golf Club today and there will be no regrets come tomorrow.